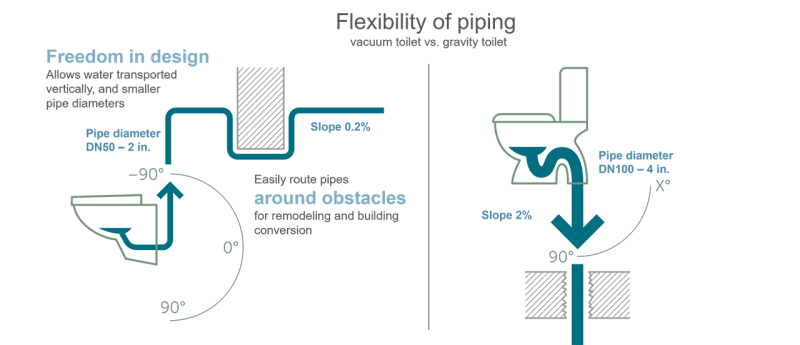 3 reasons to choose vacuum plumbing for your next project
A good plumbing system keeps on evolving with your building. Vacuum technology has been around for over 40 years now, empowering designers to make bolder and more cost-effective architectural design choices and also simplifying construction challenges.
Harnessing the power of vacuum technology to solve common problems concerning water usage, hygiene, and overall comfort can give your building a winning advantage. Here are our key points for future-proofed building designs by Evac, the original supplier for vacuum drainage.
Sustainability
With Evac´s vacuum toilets, it is possible to gain up to 90 % savings on flushing water compared to a standard toilet. Our toilets are designed to use only 1.2 liters and our vacuum urinals only 0.6 liters per flush. In comparison, a conventional dual-flush toilet uses 3–9 liters per flush. Vacuum systems collect wastewater in a future-proof way with minimal energy and water consumption. Choosing a vacuum system can help your building achieve LEED, BREEAM, AQUA, DGNB, and other green building certifications.
Flexibility
Vacuum technology allows wastewater to be transported around obstacles, overhead or horizontally without a continuous slope. This means you have a lot more plumbing design options than you would with traditional drainage systems. Vacuum drainage also makes single-fixture additions simpler and more viable, allowing for more convenient, cost-effective, and frequent remodels and expansions. Vacuum drainage systems also have a smaller pipe diameter than traditional systems, making installation simpler and more flexible.
Hygiene
Evac vacuum toilets offer a more sanitary environment than traditional gravity toilets. They allow the suction of 60 liters of air during a flush, suppressing the risk of contaminated mist, odors, and bacteria. Minimal water usage also means less chance for bacteria to spread, which makes it a particularly sound choice for high-traffic buildings with public restrooms. Toilets are also available with antimicrobial material, which reduces the bacteria on the surface by up to 99,99%.
Vacuum plumbing technology is a complete plumbing system that follows more simple rules than a conventional gravity drainage system. When designing, constructing, and modernizing buildings, Evac vacuum drainage gives you the flexibility needed for cost-effective work. If you want to learn more, contact me (Mike Stach) or visit our website.
Tags
Share
Subscribe to our newsletter
We are eliminating waste, conserving water, mitigating emissions, and creating the foundations for our customers' profitable and sustainable business on land and sea.
We invite you to join us on our mission to enable a future with no waste. To get frequent updates on the topic, please subscribe to our newsletter and join the journey with us.