Smart, flexible and future-ready drainage solutions for every building type
Your business is only as good as its ability to keep up with evolving needs of the industry. When you choose Evac's flexible vacuum drainage solution, you get the competitive advantage of a design that can grow and change effortlessly and always remain future-ready.
Add value to your buildings by preparing for the future
For over 40 years, Evac has been equipping building projects with vacuum wastewater collection solutions and resolving site-specific construction challenges. Our vacuum drainage technology is very versatile and offers a wide range of benefits, without any of the constraints that can come with gravity systems.
Vacuum systems give your building a winning advantage. Earn green credentials for your brand with Evac technologies that help you achieve LEED, BREEAM, DGNB, and HQE certification, adding to the overall value of the building for capitalization.
With high water savings, your business has a lower exposure to risk. Our solutions will also help you equip your building against legislation and future taxation on waste and CO2 generation.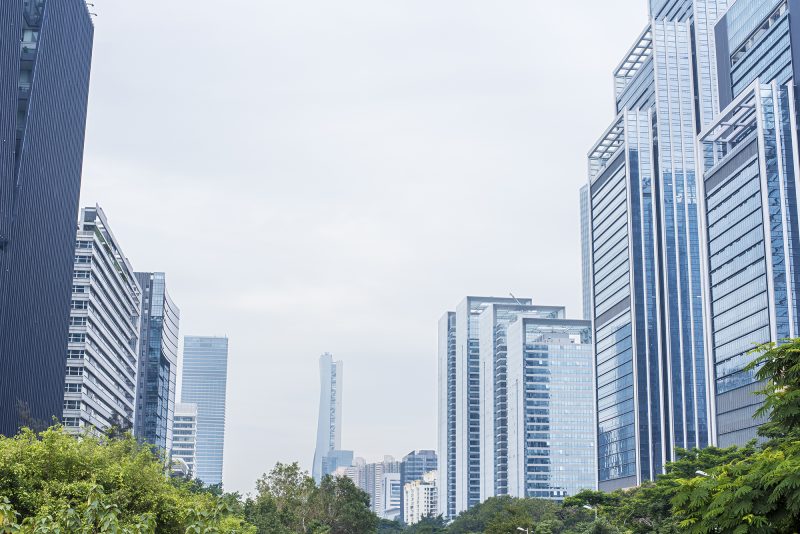 Watch a video introducing benefits of vacuum technology
Vacuum technology has been around for over 40 years now, empowering designers to make bolder and more cost-effective architectural design choices and simplifying construction challenges. Vacuum systems collect wastewater in a future-proof way with minimal energy and water consumption.
This is how we help you
Increase your building's profitability and scalability
Choosing a more sustainable approach to wastewater and condensate collection can enhance the value of the building and increase revenues.
Smart vacuum solutions allow you to scale up the operations to meet high traffic needs. With quicker and easier installation, vacuum systems can drastically reduce remodeling times and ensure continuity of operations.
In areas with water scarcity, vacuum technology offers the benefit of significantly lower water consumption which in turn leads to higher cost-efficiency.
Give your building a second lease of life with easy and economical retrofitting and remodeling that can help increase the building's value and flexibility.
Enjoy savings in water and overall costs
Evac solutions can save you up to 13 billion liters of water per year. With the vacuum technology using water only to rinse the bowl and not to transport the wastewater, vacuum toilets offer up to 90% saving on flushing water compared to standard gravity systems.
Vacuum systems give you significant cost savings in high-traffic areas, offering you an impressive return on investment in the current economy where potable water could cost more than three euros per cubic meter.
Cost-effective remodeling, conversion, extension, and renovation
Evac vacuum drainage solutions make building remodeling, conversion, extension, and renovation more feasible and cost effective. Vacuum drainage lets you reduce or eliminate core drills and slab penetrations, allowing architectural and historical features to be preserved. Asbestos abatement is easily avoided and saw cuts and trenching in tiles and concrete can be eliminated or reduced.
Vacuum drainage makes single fixture additions simpler and more viable and allows for more convenient, cost-effective, and frequent remodels and additions. Lower-level tenant space can be accessed with minimal disturbance, damage, and cost, and sub-grade and finish slab integrity and appearance can be improved. Vacuum drainage systems also have a smaller pipe diameter than traditional systems, making installation simpler and more flexible. The risk of cutting in-slab electrical, refrigeration, and sewer lines can be eliminated entirely, and the need for floor X-rays can be eliminated or reduced. In addition, with lower levels of dust and groundwork and higher levels of site safety, any disturbance to current tenants is significantly reduced. Likewise, when remodeling stores that will remain open during the work, sales floor safety hazards can be reduced, making it safer for everyone.
Feasible and cost-effective underground and suspended slab construction
With vacuum drainage you can:
Eliminate or reduce core drills and slab penetrations
Install kitchens and toilets more easily underground, keeping the above-ground level for customers
Eliminate or reduce roof penetrations, floor drains, and clean outs
Have a single collecting point, with no lifting pump station needed
Remove the need for soil dewatering and remediation processes
Reduce or eliminate the need for floor X-rays
Easily route pipes around obstacles
Reduce engineering costs
Reduce heavy work at depth with an above-ground wastewater collection point
Keep your wastewater collection point on the same level as bathrooms, kitchens, and any drainage collection points.
Want to learn more about vacuum plumbing systems? Download the full guide from the link
Armed with the right knowledge, you can make a choice that would not only meet your design goals during construction but also offer you future savings in water, time, and money.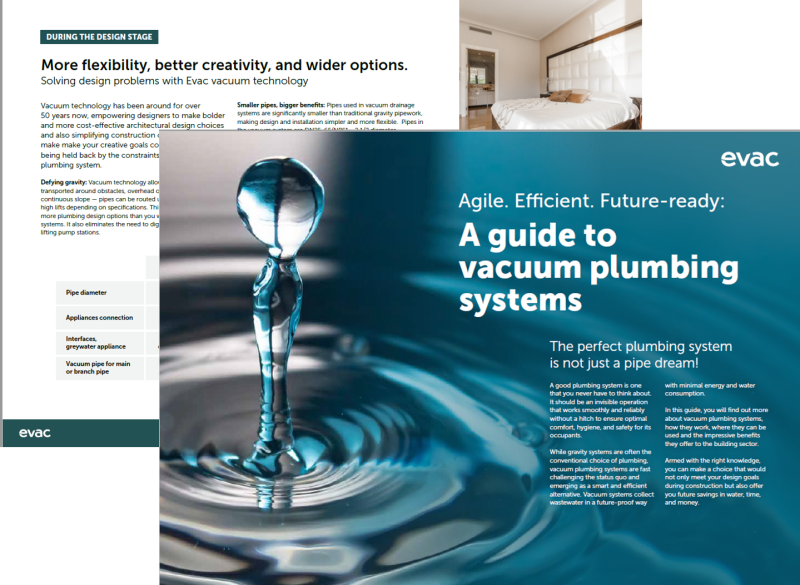 Our offering for land-based customers
Our vacuum systems provide a reliable, gravity-free wastewater collection for the lifetime of the building. Read more about our offering for different building applications.
Contact us for more information
Whether you need any products, systems, spares or other services, you will find the contact details of your local team on our Contact us -pages.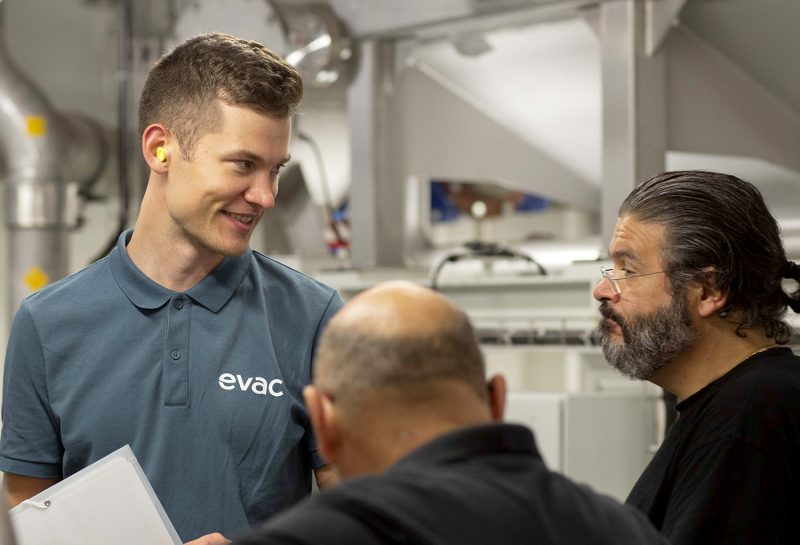 See all our our products for land-based industry