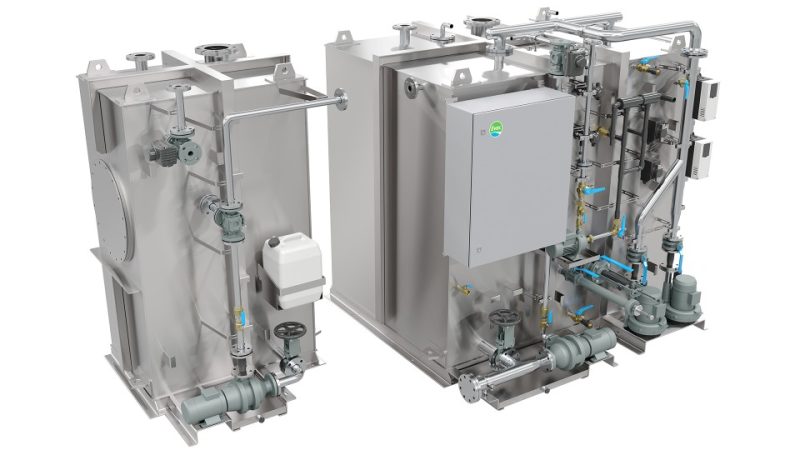 Evac launches a new generation wastewater treatment plant
Evac has developed a new, mid-size version of the Evac Membrane Bioreactor (MBR) wastewater treatment plant for various types of vessels.
The novel Evac MBR Mid-range treats all wastewater streams to current standards – and beyond. It offers the best possible treatment results by filtering up to 99% of microplastic particles and including the option for nutrient removal. The effluent quality is so good that the treated water can be reused or further processed onboard the vessel.
Evac MBR is the heart of an advanced wastewater process and one of Evac's Sustainability Spearhead Products. Including a nutrient removal unit in the system allows vessels to operate in environmentally sensitive areas, treating and discharging all wastewater generated by passengers and crew without threat to human health or the marine environment.
Sustainability and operational efficiency have been the key drivers in the development process of the next-generation Evac MBR Mid-range. "The new, upgraded system comes with many beneficial features. In addition to the already occurring excellent treatment results, we have notably improved the system's efficiency," explains Alejandro Álvarez Camino, Product Line Manager of Evac's wastewater treatment solutions.
The latest version of Evac MBR has a robust design, and its fully automatic design has a low maintenance need. The tanks are all made of stainless steel; therefore, corrosion resistance is improved without the need for coating inside or outside the tank. Also, the membrane cleaning method has been improved, and sensors and pipe arrangements have been upgraded for safer and easier operation.
The new upgraded design is compact and requires a 50% smaller footprint onboard the vessel than its predecessor. The mid-range MBR is ideal for navy and offshore installations, smaller passenger vessels with fewer wastewater streams onboard, and superyachts of all sizes.
"Our ambition is to drive the development of our water and waste management technologies to perform at levels where our customers' environmental impacts can be pushed down to zero. Dealing with waste requires a joint effort, and together with our customers and partners we can make it happen – a future with no waste," Alejandro concludes.
For further information, please watch the Evac MBR animation or visit us at the upcoming SMM exhibition in Hamburg (Hall A1, stand #233).
About the Evac Group
Evac is the world's leading provider of integrated water and waste management systems, as well as corrosion protection systems for the marine, offshore, and building industries.
We at Evac believe in a sustainable future. We are in a unique position to apply our ingenuity, decades of experience, and technological know-how of water and waste technologies to make a real difference in the environmental performance of our customers' businesses. With operations in 13 countries across four continents and representatives in more than 70 countries, we strive to enable a future with no waste. Evac – Nothing to waste
For further information, please contact:
Helena Biskop, Marketing Manager, Evac Group, helena.biskop@evac.com, +358 45 208 5774
Tags
Share