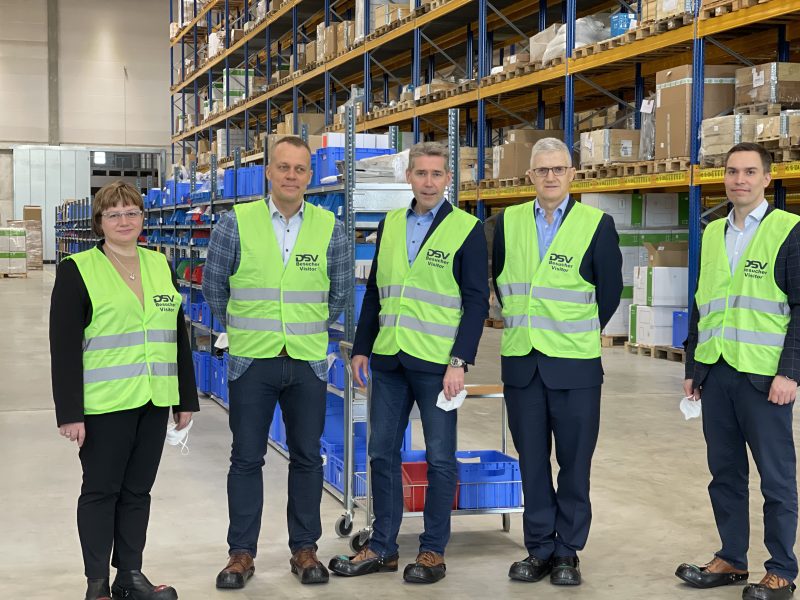 The new European distribution center integrates sustainability and efficiency
Evac introduced a new distribution center in Germany in late 2021. The European distribution center has streamlined Evac's warehousing and distribution, with sustainability at the core.
Evac is constantly looking for ways to produce and deliver solutions to customers sustainably. In 2021, Evac evaluated its warehousing network and had a clear goal: to optimize warehousing and distribution and find a suitable location and partner for its distribution center. Sustainability was one of the critical criteria for this new distribution center.
In the early fall of 2021, Evac decided to cooperate with DSV Solutions, one of the world's leading logistics companies, to establish its distribution center at DSV's state-of-the-art warehouse nearing completion. The facility met all Evac's needs and is situated ideally in Duisberg, Germany, with close links to transportation networks. At the new distribution center, which has been fully operational since December 2021, Evac distributes its own spare parts and consolidates products arriving from different suppliers.
Sustainability as a deciding factor
The distribution center provides several sustainability benefits. For example, the building is partially made with low-carbon and recycled materials. A solar power system is planned for the roof, and façade greening adds another environmental element to the location.
"We include sustainability and environmental factors in the planning and implementation of all our logistics projects," says Hannu Jokinen, Head of Logistics and Development at Evac Group. "They are an important evaluation criterion in our decision-making."
Electricity is also a focus area at the new distribution center. The site only uses green electricity and has set goals for electricity consumption. The site's current goal is to be a KfW Efficiency House 55, meaning that it would use 45% less energy than the standard new building, as determined by the Energy Saving Ordinance (EnEV) of Germany.
The site has also been granted a DGNB Gold Certificate for sustainability. The certification process focuses on different areas, including the ecological and technological aspects of the building.
Efficient logistics in mind
The distribution center is located in Central Europe, where many of Evac's customers and suppliers operate, and within a short distance from the airport and freight terminals. This provides significant efficiency and accessibility.
"The center is a true logistics hub. Because of its location, it will decrease the need for additional transportation and product transfers," Jokinen states. "For example, moving freight containers long distances by truck is a thing of the past – now they arrive by ships that are unloaded next to the site."
Evac will further develop the distribution center in 2022. Sustainability aspects will also be reviewed regularly.
"We look forward to having our distribution center and logistics network support our business in greener ways," Jokinen concludes.
Tags
Share