Evac Optima® 3 toilet
The fully pneumatic Evac Optima® 3 vacuum toilets combines superior functionality with great design. This innovative vacuum toilet has a simple design that includes few moving parts, making it highly reliable. Economical, durable, and quiet, the Evac Optima® 3 is the ideal cabin toilet for vessels such as cargo ships.
Hygienic and durable design
Highly reliable
Modern, lightweight and compact design
Hygienic and durable design
Highly reliable, with few moving parts to maintain or replace
Modern, lightweight and compact design with optimized components
Easy to clean and maintain
Available models:
Evac Optima 3 wall
Evac Optima 3 floor
Evac Optima 3 wall USPH
Evac Optima 3 floor USPH
Water consumption:~1.2 ± 0.15 l/flush (water pressure: 4 bar, vacuum: -0.4 bar)
Air consumption: 60 ± 10l/flush (normal atmospheric air)
Water pressure: 3….10 bar
Operating vacuum: -0.3…-0.6 bar
Dimensions: 550 x 450 x 395mm / 560 x 480 x 375mm
Weight: 18 / 20kg
Sound level: Varying (contact for more information)
The Evac Optima® 3 toilets are equipped with the proven, fully pneumatic Evac discharge valve and mechanism, with flush memory and vacuum sensor technology. It is also available with optional USPH models if required.
Evac Optima® 3 pushbutton has been upgraded with Evac Anti-Microbial materials as standard beginning of 2022 for improved hygiene. Floor models have the same hidden fixing as in Evac Optima® 5 and 5S models.
The flush button sends an air pulse to the control mechanism, which connects the vacuum to the water and discharge valves. The water valve opens, letting rinsing water flow into the bowl. After a short delay, the discharge valve opens and the contents of the bowl are discharged into the vacuum sewer.
The control mechanism closes the discharge valve and, after a short delay, the water valve. The delay ensures a small amount of water is left at the bottom of the bowl. The toilet is then immediately ready for the next flush.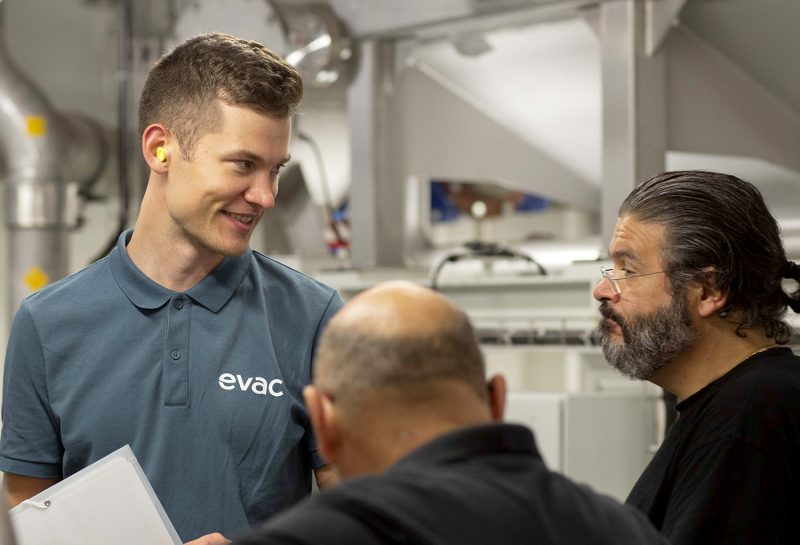 Evac Lifecycle Management
For all our systems and solutions, we offer a comprehensive portfolio of services throughout the operational life of the delivered solution or equipment.
See all our other products for vacuum collection and toilets