Cathelco® ICCP Thruster Tunnel System
Bow and stern thrusters protection is a specialised area where Catehlco have developed a system that is uniquely effective in providing corrosion protection.
Problems of corrosion arise because of the dissimilarity of the materials used in the hull and thruster tunnel construction and remain unchecked because they are outside the scope of conventional ICCP systems.
The ICCP system has a number of advantages in comparison with sacrificial anode systems where anodes are much heavier, have to be checked at regular intervals and replaced at each dry docking. In contrast, the Cathelco system provides carefully monitored, precisely delivered corrosion protection for a design life of up to 15 years.
Uniquely effective in providing corrosion protection
Greener solution to sacrificial anodes
Lifetime warranty
Prolong tunnel life and integrity
Reduced tunnel maintenance
Reduced fuel costs
Greener solution to sacrificial anodes
Self Regulating automatic system with minimal human intervention required
1 system per tunnel
Located on either side of the impellor
Recessed anodes and reference cells
To ensure that the tunnel is protected the potential needs to be measured against a known value. Cathelco uses high purity, high stability Zinc or Silver recessed reference cells mounted through the tunnel wall to measure the potential difference between the reference electrode and the thruster tunnel. These reference electrodes are electrically isolated from the hull and constantly feed the thruster tunnel potential back to the control panel.
Recessed mounted anodes are used to conduct the DC protective current using the latest technology in ICCP anode coatings. Anodes have a long design life for extended periods of use and are fully diver changeable should they need to be replaced in service.
Anodes and reference cells are located either side of the impeller for optimal protection.
The control panel is a variable source of DC power that constantly monitors the hull potential via the reference electrode and automatically adjusts the output current to the anodes to ensure the thruster tunnel remains cathodic.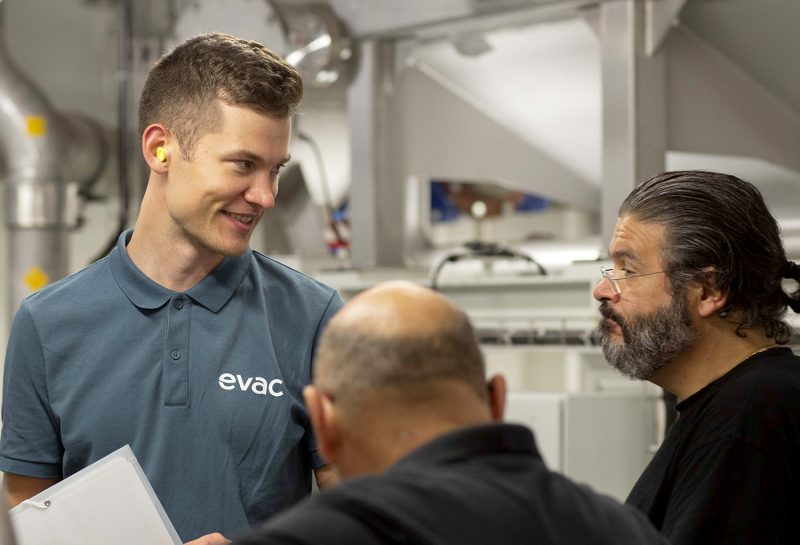 Evac Lifecycle Management
For all our systems and solutions, we offer a comprehensive portfolio of services throughout the operational life of the delivered solution or equipment.