Marine water and waste management solutions
With decades of experience in the marine industry, technological expertise and a comprehensive portfolio of water and waste management systems, as well as hull and pipework protection systems, we are able to offer solutions for a large variety of vessel types in different sizes, naturally tailormade for your specific needs and requirements.
Protect the marine life through sustainable solutions
For decades, we have been helping our customers finding sustainable solutions in water and waste management onboard ships. Today we are the world's leading provider of integrated water and waste management technologies as well as hull corrosion protection systems (ICCP) and marine growth prevention systems (MGPSs) for the marine industry.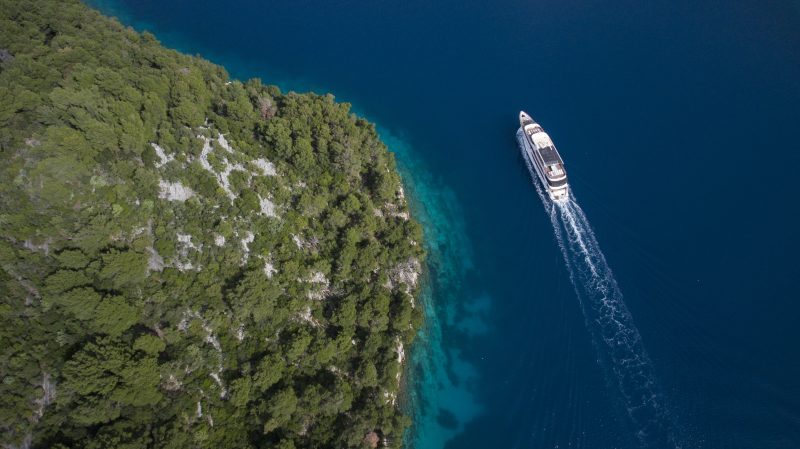 Research and innovation drive sustainability
Protecting marine life is a crucial motivator for our business and product development. Helping our customers to reduce the environmental footprint beyond regulatory requirements sets research and innovation in a key role.
For over 40 years our mission has been to modernize waste and wastewater management. Our product development and research is founded on proactive and continuous collaboration with partners. Constant co-creation and re-innovation gives us valuable insight in needs and requirements, legislation development, how we can keep improving the circularity, meanwhile also gaining fundamental information for development of new innovative technologies of sustainable water and waste management solutions onboard.
With our comprehensive offering, we can offer you a complete solution that is treating all generated waste streams onboard the ship, in a sustainable, reliable, and cost-efficient manner. Besides waste management, our offering include also solutions for freshwater treatment and production.
The Evac Total Concept covers all your needs, including vacuum collection, sewage treatment, as well as dry, wet and food waste management and freshwater generation systems. The concept's are carefully designed for various vessel types in different sizes, fully customizable according to your needs and requirements. The comprehensive one-stop-shop offering is what sets us apart from the competition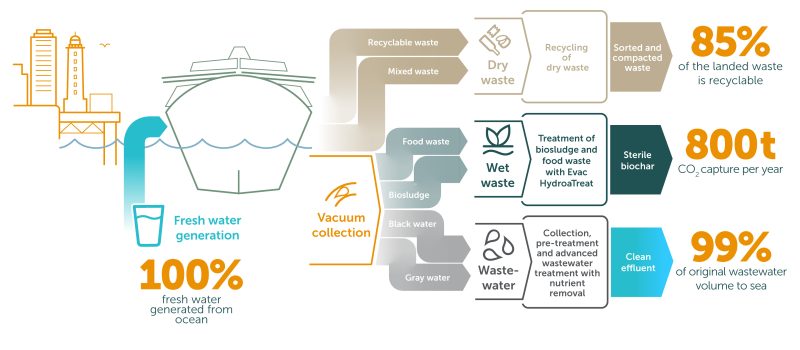 Benefits of Evac Total Concept
Tailormade to suit your specific needs
Evac Total Concept is a complete water and waste management system that includes vacuum collection, wastewater treatment, freshwater generation, marine growth prevention, corrosion protection as well as dry, wet, and food waste management.

Our product development specialists carefully plan and design customized solutions for you based on your vessel's size and passenger capacity, with a special emphasis on energy and material efficiency.
Integrated systems, one smart solution
When you choose the Evac Total Concept for your shipbuilding project, you get the advantage of a host of benefits packed into one smart solution. With a single supplier, you enjoy simplified coordination, integration, and installation.

Our integrated solutions ensure that all systems are compatible with fewer critical interfaces between different systems, eliminating the risk of conflicts that can arise when products come from different sources.

Once the systems are installed and in operation, enjoy easy and efficient management and maintenance.
One supplier, multiple benefits
The Evac Total Concept covers all your needs for sustainable waste management onboard vessels. Our comprehensive one-stop-shop offering is what sets us apart from the competition.

Purchasing all your waste, wastewater and water management systems from a single supplier simplifies coordination and integration during your shipbuilding project. Once the systems are installed, it makes managing and maintaining them easier and more efficient.
Marine
customer segments
Read more about our comprehensive offering of water and waste management solutions designed for different vessel types.
Contact us for more information
Whether you need any products, systems, spares or other services, you will find the contact details of your local team on our Contact us -pages.