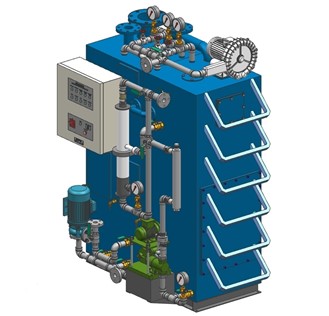 Evac CSWE Series
Compact and cost-efficient, the Evac CSWE biological wastewater treatment system is ideal for treating black and gray water streams on board with the advantage of meeting and exceeding the latest environmental standards.
A wastewater treatment system for merchant vessels
Easy maintenance and low operating cost
Custom designed to overcome space limitations
• Certified and Type approved by RINA according to IMO MEPC 227(64)
• Membrane Bioreactor technology
• Compact design and low weight
• Fully operational flexibility
• High efficiency
• Cost-effective
• Chemical free – apart from cleaning
• Environmental friendly
• Low and easy maintenance requirements
Model
Hydraulic Load
(M3/Day)
Organic Load
(Kg BOD5/Day)
Evac CSWE 30
2,10
1,05
Evac CSWE 40
2,80
1,40
Evac CSWE 60
4,20
2,10
Evac CSWE 80
5,60
2,80
Evac CSWE 120
8,40
4,20
Evac CSWE 160
11,20
5,60
Evac CSWE 200
14,00
7,00
The units are available in coated black steel or stainless steel.
Evac CSWE is a 100% biological system for the efficient treatment of black wastewater from toilets and urinals (also grey wastewater from washbasins, sinks, and showers).

Membrane technology eliminates the need for chemicals, apart from cleaning. The plant has been designed to make operation and maintenance as easy and cost-effective as possible. Its compact footprint and low weight make it ideal for vessels with less than 70 people crew onboard and where space is limited.
Operating principle