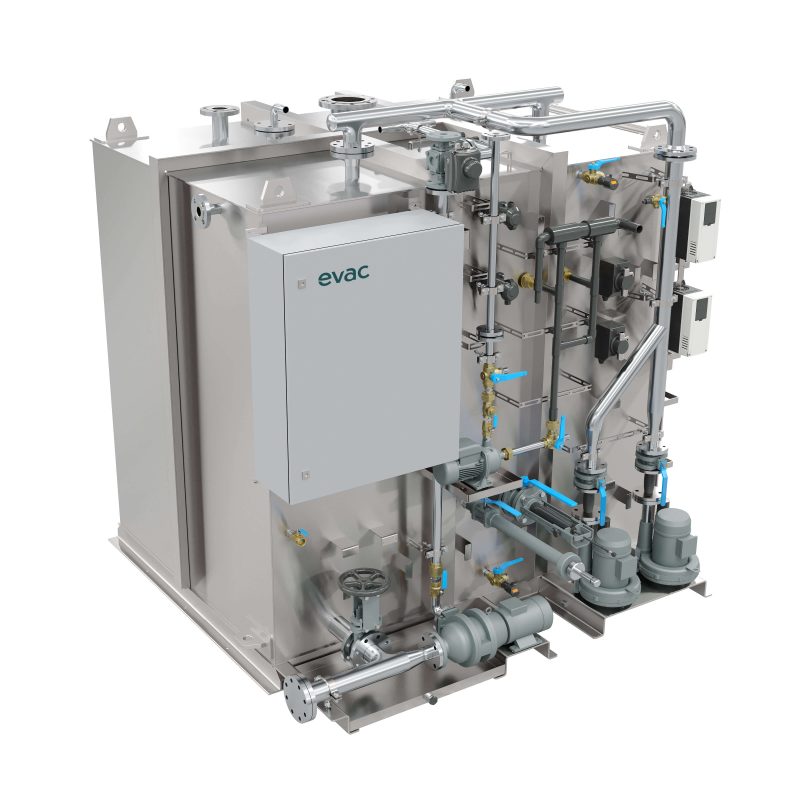 Evac MBR
Evac MBR (Membrane BioReactor) is an advanced biological wastewater treatment plant suitable for all vessel types ranging from small yachts to large cruise ships. The MBR plant handles all black (sewage) and grey waters from galleys, sinks, showers, and laundry facilities, generating good quality effluent in one step without the need for further post-treatment steps. The MBR can incorporate an optional additional nutrient removal step.
Wastewater treatment plant for all passenger vessels
Treats all wastewater streams to current standards – and beyond
The heart of an advanced wastewater process
Completely automatic and easy to maintain and control.
High-quality disinfected effluent without the use of chemicals
Extremely low running costs and minimal energy consumption
Completely modular and highly customizable system. 
IMO MEPC.227(64) compliant
EVAC MBR MODEL
Max
Hydraulic
load
(m3/day)
Max BOD5
load
(kgO2/day)
Dry
Weight
(kg ±10%)
Wet Weight
(kg ±5%)
Dimensions L x W x H (mm)
EVAC MBR 7K
7,5
4
1600
3900
2281 x 1914 x 2365
EVAC MBR 15K
15
8
2100
5700
2322 x 2228 x 2399
EVAC MBR 22K
22
11
2300
7000
2575 x 2366 x 2399
EVAC MBR 30K
30
15
3000
9600
2778 x 2595 x 2399
EVAC MBR 45K
45
23
3400
12000
2995 x 2845 x 2491
EVAC MBR 70K
70
35
3800
18200
4390 × 2289 × 2200
EVAC MBR 95K
95
50
6400
24800
5690 x 2469 × 2200
EVAC MBR 120K
120
60
7400
31300
5890 x 2890 × 2200
EVAC MBR 145K
145
75
8500
37300
6898 x 2969 × 2200
Evac MBR larger customized sizes available upon request
The MBR tank contains suspended biomass and membrane filtration modules. The mixed pre-treated wastewater is fed to MBR where the biomass oxidizes the organic matter present in it. Treated water from MBR tank is sucked through permeate pipe to a dedicated tank from which it can be pumped overboard
Evac MBR is certified according to IMO MARPOL MEPC 227(64) with nutrient removal, thus fulfilling the amendments to Chapter 4.2 of MEPC 227 for passenger ships in restricted areas such as the Baltic Sea. The Evac MBR units also fulfil the requirements of the Rhine River certification, and it is possible to manufacture them according to U.S. Coast Guard (USCG) regulations.
See all our other products for wastewater treatment