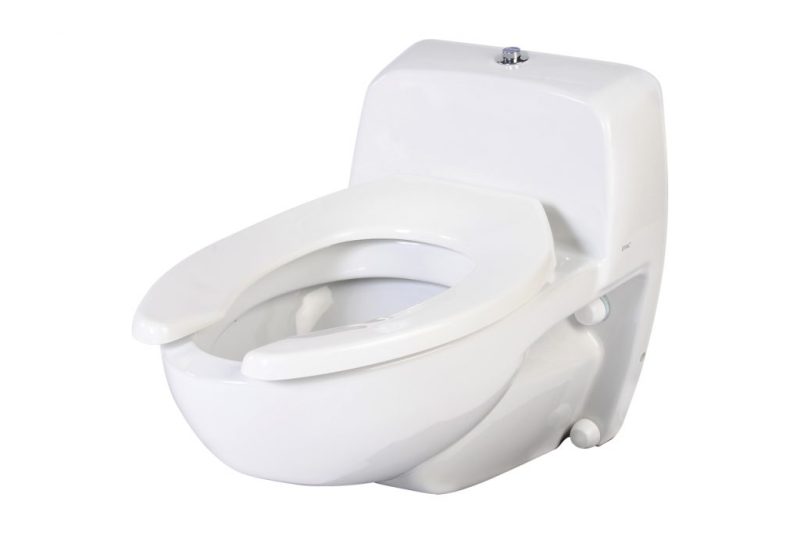 Evac elongated vacuum toilet
The Evac elongated vacuum toilet is designed for environments where good sanitation and hygiene are important requirements. With the Evac Elongated Toilet there are no overflows or unflushed toilet bowls caused by a temporary loss of vacuum – It uses our proven pneumatic flush mechanism with flush memory and vacuum sensing technology to ensure sufficient vacuum prior to the flush.
The toilet is constructed from corrosion-resistant materials and comes complete with a wall-mounted bowl made from vitreous china. An open-front seat or a combined open-front seat and cover are available separately. This toilet uses approximately 1.7 liters / 0.45 gallons of water per flush.
For land-based applications
Only for the North America market
Low water consumption
Hygienic
Low water consumption
Pneumatic flush mechanism means no electrical connections necessary
Constructed from corrosion-resistant materials
Universal height, compliant with ADA standards for accessible design as required in public spaces
Water consumption: ~0.45 gal/flush [1.7 L/flush]
Air consumption: 2.1 cu ft/flush [~60 L/flush]
Water pressure: 15…145psi [1….10 bar]
Operating vacuum: -9…-18inHg [-0.3… -0.6 bar]
Dimensions: 24 x 15.36 x 19.88 in [610 x 390 x 505 mm]
Weight: Dry – 50 Lbs. (23 kg); Wet – 54 Lbs. (24.5 kg)
The toilet bowl is white vitreous china and is attached to a wall with bolts that are inserted through a support beam or a structural carrier. The cavity behind the bowl houses the backplate assembly with the basic working components, the control valve, vacuum breaker and water valve. The discharge valve is attached to the wall with a brace plate. The entire flushing cycle is sequenced by the control valve.
In operation, the vacuum sewer piping is under vacuum at a pressure of approximately half an atmosphere. When the flush button is pressed, the control valve opens the discharge valve and water valve for a few seconds. Air at atmospheric pressure forces the contents of the bowl through the discharge valve and into the piping. In the piping, waste forms a slug that is propelled to the collection tank by expanding air. The discharge valve closes first and the water valve closes after it supplies washdown and pool water. The controls are automatically reset at the end of each flushing cycle. The control unit with flushing memory ensures that there is sufficient vacuum for flushing before allowing the flush to be performed. Both the water consumption and flushing time can be adjusted.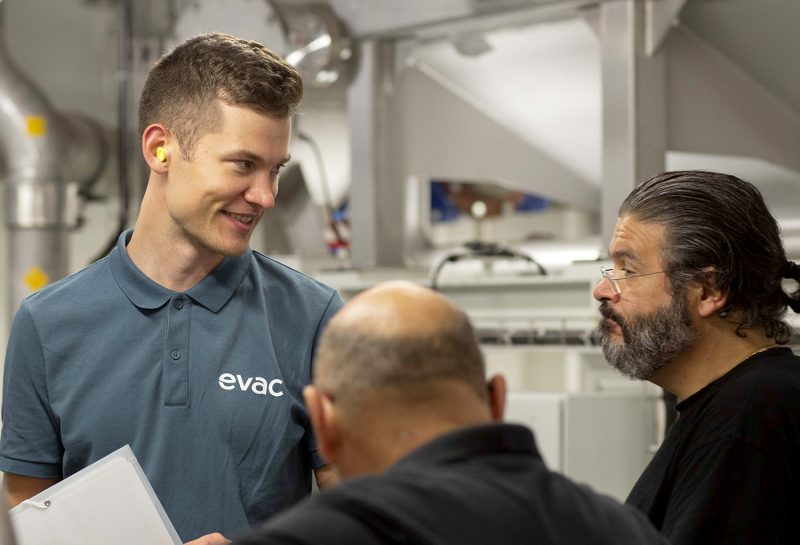 Evac Lifecycle Management
For all our systems and solutions, we offer a comprehensive portfolio of services throughout the operational life of the delivered solution or equipment.
See all our other products for vacuum solutions