Hygienic and efficient vacuum drainage solution for healthcare sector
Improve patient hygiene and comfort, free up space in care facilities, and get significant water savings by choosing Evac's future-ready vacuum drainage solutions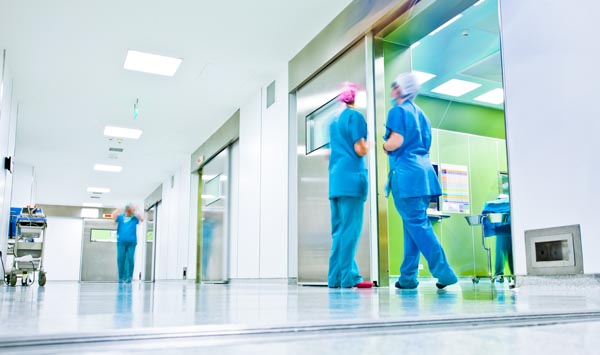 Putting patient wellbeing at the heart of healthcare design
Ensuring the comfort, hygiene, and wellbeing of users is an integral part of designing spaces in the healthcare sector. When you choose Evac vacuum technologies, you get smart drainage solutions that not only help enhance the quality of care, but also optimize operations at hospitals, clinics, radiotherapy units, dialysis centers and retirement homes.
Improved hygiene and comfort for your healthcare facilities
Improve patient hygiene and comfort in bathrooms with vacuum toilets that effectively flush out odors and mists and minimize the risk of pipe leakage and contamination. Dedicated and confined wastewater transport also reduces the risk of emanations due to gas and leakage.
Evac vacuum toilets take in 60 liters/2.1 cubic feet of air per flush, significantly reducing mist and odor and therefore improving both hygiene and patient comfort. Should a pipe breach occur, instead of water leaking out, air leaks in due to the pressure difference. As the risk of leakage is greatly reduced with Evac vacuum piping, it improves iatrogenic disease and radioactive contamination control by making contaminated and radioactive waste drainage much safer.
Smart solutions for significant savings
In an environment where efficiency is a top priority, flexible solutions can future-proof your facilities. Thanks to their low water consumption, water bill is greatly reduced. Evac technologies also offer a fast return on investment in medical facility projects involving construction, extension, and renovation. Thanks to the flexibility of Evac vacuum collection systems, a broader range of locations can be considered for medical facilities, meaning they can be located closer to patient populations.
Remodeling is also more cost-effective because of the significant degree of freedom with piping routing. This means that architects can preserve current historical and architectural features without compromising their designs, medical facilities can easily be integrated into mixed-use buildings, and a higher level of investment can be directed to care provision.
save space
By reducing the need for radioactive waste disposal tanks, you free up valuable space.
save water
Our sustainable vacuum solutions offer up to 90% in water savings.
save money
Earn a fast return on your investments in hospital construction, extension, and renovation projects.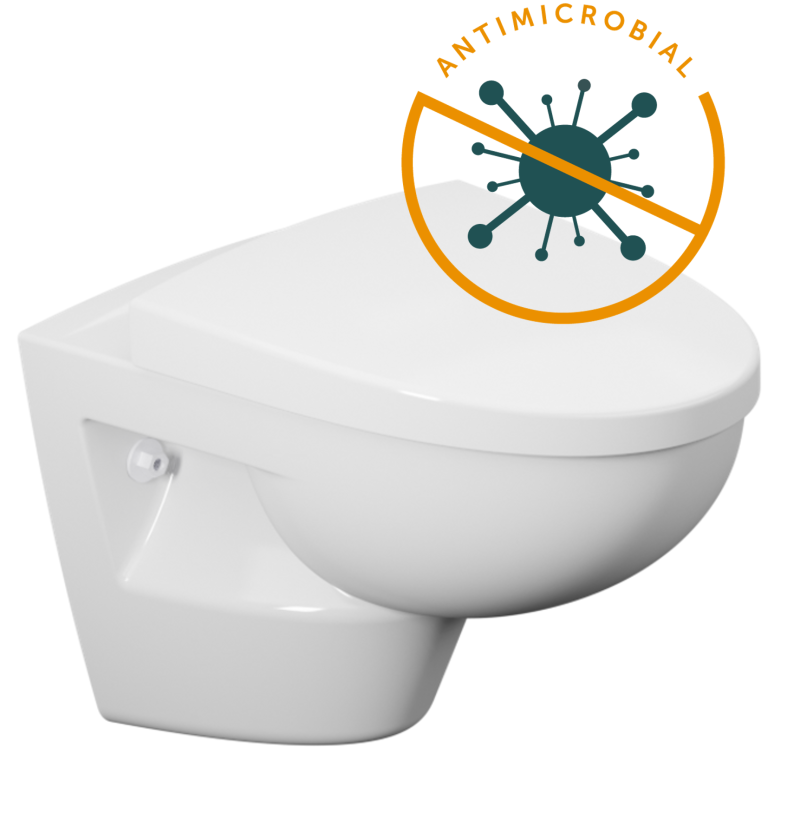 Toilets with built-in antimicrobial protection for enhanced patient hygiene
The healthcare sector is constantly looking for ways to tackle iatrogenic contamination in patient and lab facilities. We have developed antimicrobial material for toilet seats and pushbuttons that can significantly minimize the risk of contamination during toilet visits.
Made from UF and ASA plastics impregnated with an FDA-approved silver compound, the material curbs the growth of bacteria, reduces the need for additional chemical sprays and provides extra protection between cleanings. You can easily retrofit the antimicrobial toilet solutions into existing facilities.
How does a vacuum system work?
Vacuum waste systems do not rely on gravity and can lift waste into the overhead ceiling space. The advantage is that overhead piping can be routed around obstructions without need for a constant slope. Running between floors eliminates the need to make floor penetrations that impact tenants below and limit future layout options. Modifications can now have near limitless possibilities when compared to gravity plumbing constraints. Vacuum also allows the plumbing to be re-configured in a much tighter timeframe than traditional gravity systems thus avoiding a lot of future cost and disruption.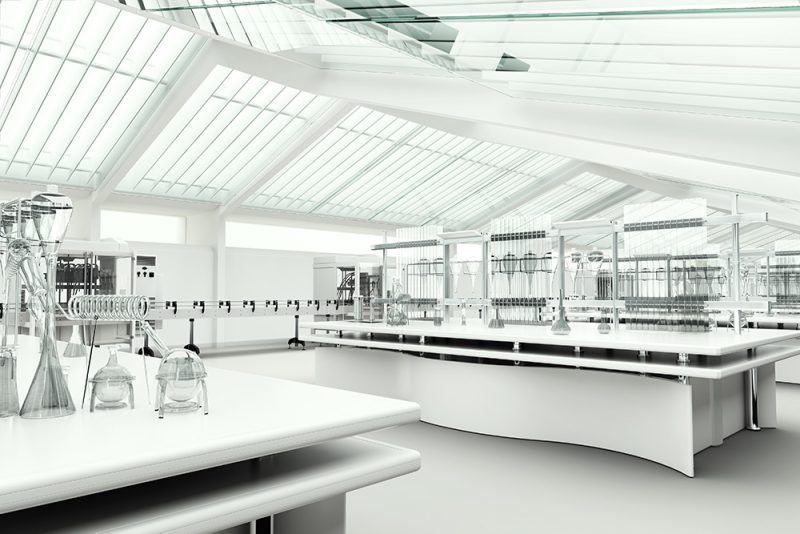 See all our products for healthcare segment
Want to learn more about vacuum plumbing systems? Download the full guide from the link
Armed with the right knowledge, you can make a choice that would not only meet your design goals during construction but also offer you future savings in water, time, and money.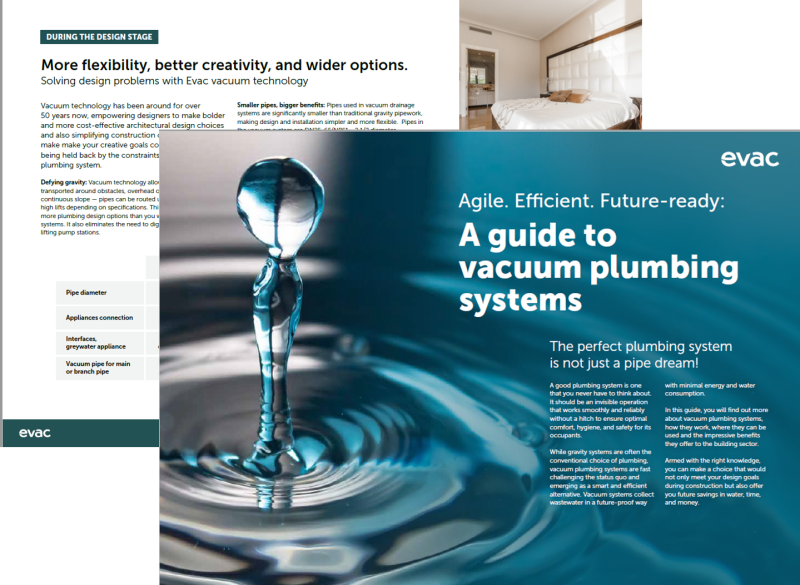 Contact us for more information
Whether you need any products, systems, spares or other services, you will find the contact details of your local team on our Contact us -pages.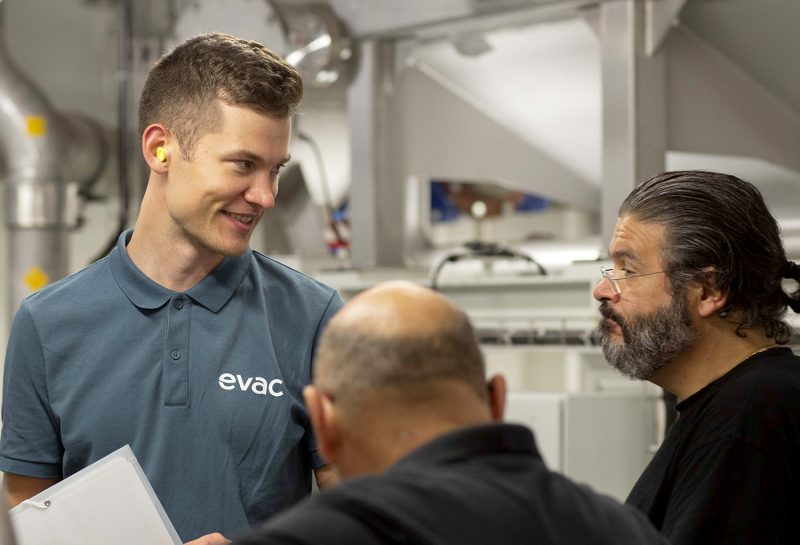 Land-based customer segments
Our vacuum systems provide a reliable, gravity-free wastewater collection for the lifetime of the building. Read more about our offering for different building applications.